You don't need me to tell you that 2020 was a wild ride for small businesses in just about every way imaginable (not to mention every way that was previously unimaginable). As we move forward (hopefully) to the light at the end of the tunnel, we also need to look back and learn from this experience. Many businesses took a huge hit in 2020, some closing their doors forever. Meanwhile others THRIVED during the situation. How? The pivot.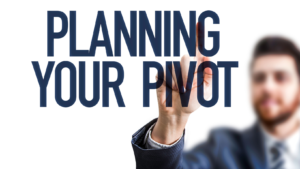 If there's one thing that the pandemic has taught us as a business owner, it's that we can't put our entire business model into one expected outcome. Many of our clients are in the food and beverage industry, so needless to say they had to make some massive pivots. Restaurants that were built on the business model of "cram as many people as you can into the place" were suddenly forced with the reality that there were now ZERO customers that could be a part of that model. Suddenly they needed to learn how to adopt to curbside takeout, online ordering, minimal staffing, and more.
While it has been a very difficult journey for them, many of these businesses have learned that they are able to create new revenue streams within their business that they previously never thought they would be able to do. Even when things return to "normal," many of these pivots will remain as part of their plans and will provide multiple revenue streams for the business and can also help protect against future unforeseen events.
We as a company had to pivot as well. Clients that previously needed help with event planning and day to day social media marketing, suddenly needed help with web design, ecommerce, email marketing, and whatever else the day threw their way. We made those pivots, and it helped us learn new ways we could help small businesses succeed in a forever changing marketplace. (We also found a new appreciation for tequila to help take the edge off this wild ride.)
Finding new ways to innovate and expand your revenue streams is the key to your businesses' growth, while also insulating it during trying times. So … what's YOUR pivot? If your number one source of revenue disappeared tomorrow, what would you do? Don't rely on just one expected outcome. Explore things like ecommerce, affiliate marketing, social media, or whatever makes sense in your industry to always stay in touch with your customer base.
If you have any questions about content creation or marketing for your business, please feel free to reach out to me at zack@thejpgagency.com. I'd be happy to provide any insight I can. Thank you!